OEM Tray Solutions
We have over 20 years experience in creating custom solutions.
When you work with InstruSafe®, you leverage our regulatory expertise, collaborate with our engineering and design teams who have end user experience, and watch it all come to life with our vast manufacturing capabilities. OEM trays can be designed for use with various sterilization cycles, with wrap or rigid containers.
We are the OEM tray manufacturer with FDA 510(k) clearances needed to get your project started or pair with your existing instrument validations.
See Our Process in Action:
Our Process
From a single instrument to a full set, delicate or robust; we will design and manufacture a tray to provide optimal protection while complying with FDA regulations and AAMI standards.
Concept

Project Goals
Our first step is to understand what your expectations and goals are, we then work with you to create a project outline and define our deliverables.
Provide us with a physical sample or 3D model of the instrument and we can get started.
Design

Collaboration
Our process can have as much or as little collaboration as you would like.
We can build your ideal tray together or you can rely on our industry experience and end user perspective to recommend a design and direction.
Development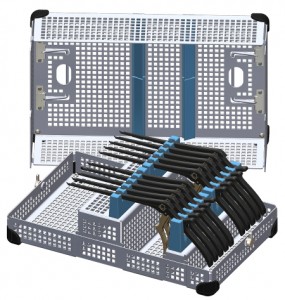 Experience
Once we have a concept and design our engineers will develop 3D models used for virtual instrument fitting and checking design parameters. This step of the process is cost effective for modifying the design before we manufacture a prototype.
The silicone holders are designed specific to your instruments to provide 360 degrees of protection. Finished trays can be sterilized in legally marketed wrap or rigid containers.
 Completion

Exceeding Expectations
From the development process to a completed tray we are determined to outperform your expectations.
After your instruments are fitted and all design parameters are met, we manufacture the finished product. Each instrument has its own unique position in the tray.
Our trays are proudly made in the U.S.A.
---
Core Competencies


Every project is unique. Working together and understanding our customer's goals is vital to meeting expectations.

Our team has years of experience in sterile processing and the operating room. This helps provide a unique end user perspective when developing your project.

Our facilities are ISO 13485 : 2012 Certified, we have CE certifications and an extensive portfolio of FDA 510(k) Clearances for various sterilization cycles.

Our company culture enables us to establish goals to meet or exceed project timelines and turnaround quick manufacturing lead times.
---
FDA 510(k)
Designed to ensure optimal sterilization, InstruSafe OEM trays are cleared for various sterilization cycles in both wrap + rigid containers. Each tray meets our criteria to be covered by all our cleared cycles. This gives the customer a complete solution ready for market.
For more information about current sterilization validations go to our resources page here.
---
OEM Capabilities
See a list of our OEM capabilities here.