InstruSafe Advantage
The use of complex and delicate instrument sets is a new reality in which sterile processing and the operating room live. Intricacy of surgical instrumentation continues to increase, and so does the cleaning and sterilization process. Now, healthcare facilities face the challenge of reprocessing instruments safely and efficiently while also meeting the demand for fast turnaround. Keeping these sets organized and protected upon arrival in the operating room creates a challenge for all involved. Relieve yourself of these daily obstacles with InstruSafe® Trays — an everyday solution for the intricacies of your instrument sets.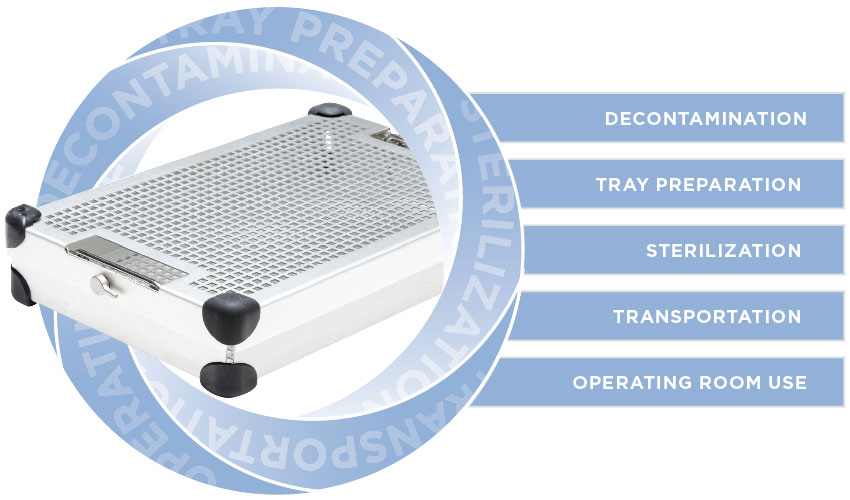 Designed for Your O.R.
We have spent over 30 years understanding the use cycle and improving outcomes. With the entire process in mind, we have created a product that eliminates common frustrations associated with instrument sets.
InstruSafe Instrument Protection Trays are perforated metal trays — or cassettes — with feet, handles, latches, and most often, silicone instrument holders. Designed to organize and protect from the point of decontamination to the finished use in the operating room, our system benefits everyone who comes in contact with our trays.
Durable, Lightweight Construction
In an effort to minimize replacement costs and extend the life of our InstruSafe Trays, we use anodized aluminum and long-lasting silicone. The result is a durable, lightweight tray that outlasts traditional plastic options, which can warp, crack and break with continued use.
Complete Protection and Sterilization
Your instruments are completely protected throughout the use cycle with medical grade silicone instrument holders configured to the tops and bottoms of our InstruSafe Trays. The bottom holders are molded to hold your instruments in place while minimizing contact points, improving sterilant penetration to reach each individual instrument. Sterilization is further improved with aluminum construction for optimal heat transfer and large amounts of perforation to provide superior penetration and drainage.
Streamlined Design
Various lengths, widths and heights of trays are available to accommodate different sizes and quantities of instruments within a particular set. InstruSafe's space-saving design also fits most standard rigid containers, and with features like retractable handles and rounded corner guards, neat and orderly storage can always be achieved.
FDA 510(k) Clearances
Designed to ensure optimal sterilization, InstruSafe Trays have undergone rigorous testing before receiving multiple FDA 510(k) clearances. Cleared for various sterilization cycles, these reliable trays give hospitals and healthcare facilities even more options when it comes to sterilizing and protecting their instruments.
For more detailed information, visit our Validations page.