Features + Benefits
InstruSafe® Instrument Protection Trays are perforated metal trays (or casettes) with feet, handles, latches and most often silicone instrument holders. Available in various lengths, widths and heights to accommodate different sizes and quantities of instruments within a particular set.
The aluminum construction is lighter than stainless steel yet more durable than plastic, therefore more resistant to breakage, which reduces replacement costs. Designed with four foot style options to accommodate sterilization methods and sterile barrier types. InstruSafe Trays are designed for use with both wrap and rigid containers during sterilization.
Click the highlighted areas below to explore the detailed benefits of using InstruSafe Instrument Protection Trays.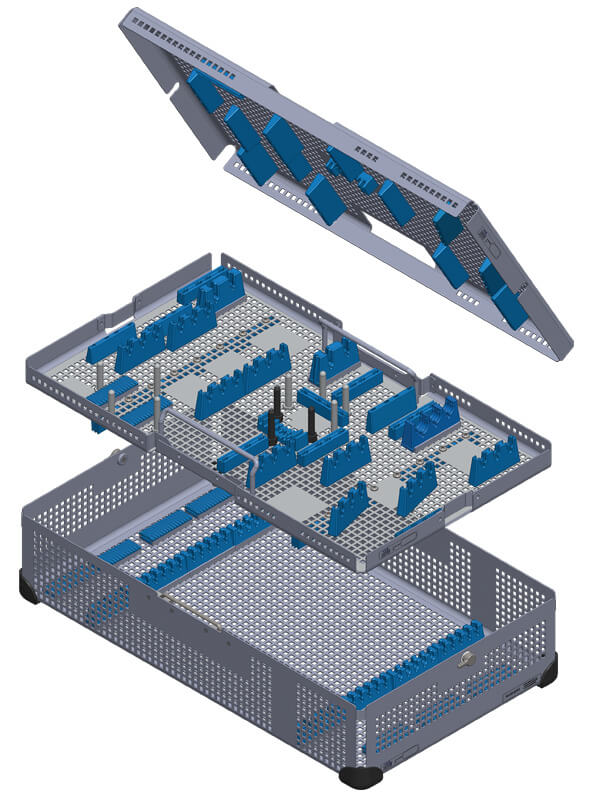 A. ANODIZED ALUMINUM: Durable, long-lasting construction provides superior heat transfer and minimizes replacement costs associated with cracking.
B. MOLDED SILICONE INSTRUMENT HOLDERS: Durable, long-lasting, soft medical-grade silicone material provides maximum protection and extended use. Holders on base and cover offer 360 degrees of protection. Slotted base holders cushion, protect and hold specific instruments in place for optimal protection, sterilization and drainage. Allows for easy identification of missing instruments.
C. HOLDER BASE OPTIONS: Aluminium-base and baseless holders attach with screws for easy removal during cleaning and reconfiguration as sets change. Opt for lighter weight, baseless holders for improved ventilation and sterilant penetration.
D. REDUCED CONTACT POINTS: Improves sterilant penetration.
E. PERFORATION: More perforations assist in sterilant penetration.
H. QUARTER TURN ROTARY LATCH: Secures cover to tray base, providing visual indication of open/close.
G. OFFSET LATCH HOLES: Aligns cover to base ensuring silicone holders match up with instruments.
F. UNIVERSAL SIZING + RETRACTABLE HANDLES: Space-saving design fits most standard rigid containers and allows for sterile removal from containers.
I. FOOT OPTIONS: Sterile barrier and storage needs determine the foot type built into a tray. Please indicate one of the following at the time of your tray order. R: Rounders® Corner Guards, TF: Tall Foot fits into rigid containers, NF: No Foot is needed.